Technical equivalence
A PPP dossier is based on three pillars
Any batch of Technical active substance is produced in a specific chemical plant following a precise manufacturing process. The legislation calls SOURCE this combination of plant address and manufacturing process. If any of it changes, then the source changes. For example, if the manufacturing company opens a new plant, then it is a new source even if it continues to follow the same manufacturing process. In the same way, a plant that modifies its manufacturing process will become a new source even if its location is still the same.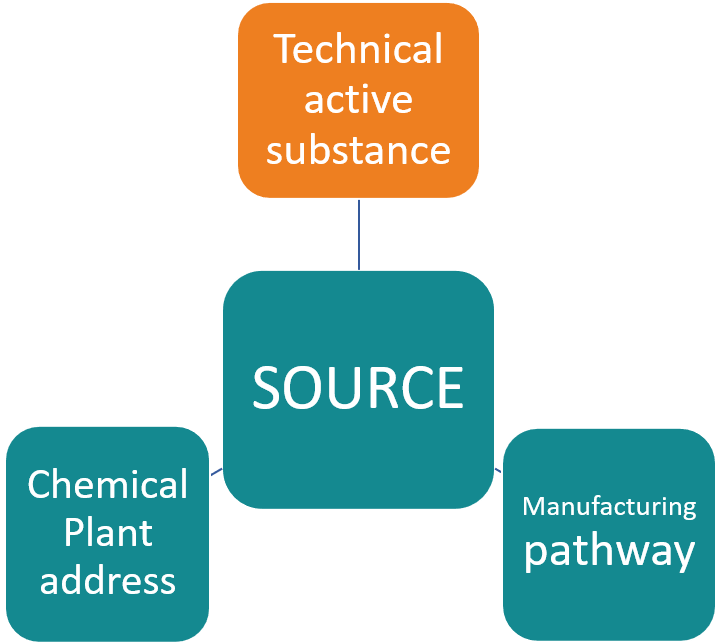 The EU Regulation requires registration of the technical active substance you intend to use for your Plant Protection Product. It means that you will either have to provide the evidence that this source has been approved already, or you will have to register it yourself. Registering a source in EU goes through a process known as 'Technical Equivalence' and follows Guidance SANCO/10597/2003.
A source can either be a reference source, or an alternate/different source.
Reference source means that it is the source defended by the main applicant during the approval or renewal of the active substance. During the EU evaluation, the RMS compares the specification of this source to the impurity profile of the batches used for the generation of the toxicological and ecotoxicological studies, to ensure that the endpoints set up for the active substance are representative of the reference source specification.
An alternate source means that it is different to that evaluated in the frame of the active substance EU process. The RMS compares the specification of this new source to that of the reference source, and decide if the new source is equivalent or not, or if more data is required on certain impurities to rule this out.
ENC can help you registring your source of technical active substance.